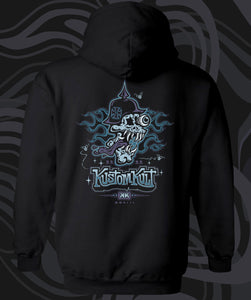 VON SKULLY
BONEHEAD BLUE

Eye poppin', skull burnin', spikey helmet wearin', tongue drool-
in', fly infested goodness- just for you- back from the dead &
straight to your sad closet from the mad crypts of Kustom Kult.

Want your own Kustom Graphics designed just for you? Dave
does Kustom Logos, Lettering & Nutty Apparel Graphics. You

know you want some killer design! Hit him up at: dave@kustom-
kultstudio.com

KEEP IT KUSTOM!
Witness the Mayhem:
Instagram: dave_kustomkultstudio
Site: kustomkultstudio.com
PLEASE NOTE DUE TO THE SIZE OF THE GRAPHIC ALL HOODIES ARE PRINTED ON THE BACK!


Want your own Kustom Graphics designed just for you? Dave
does Kustom Logos, Lettering & Nutty Apparel Graphics. You

know you want some killer design! Hit him up at: dave@kustom-
kultstudio.com

KEEP IT KUSTOM!
Witness the Mayhem:
Instagram: dave_kustomkultstudio
Site: kustomkultstudio.com