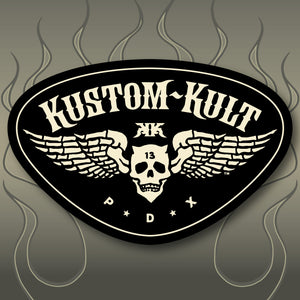 KUSTOM KULT LOGO STICKERBOMB & SLAP HAPPY STOKE!
The original KUSTOM KULT logo badge. More to the core.
Sticker Bomb delight & Slap Happy stoke!
5.25" x 3.5" die cut vinyl sticker
Slaps great indoors or outdoors
Want your own Kustom Graphics designed just for you?
Dave does Kustom Logos, Lettering & Nutty Apparel
Graphics.

You know you want some killer design!
Hit him up: dave@kustomkultstudio.com

KEEP IT KUSTOM!
Witness the Mayhem:
Instagram: dave_kustomkultstudio
Site: kustomkultstudio.com